Frank R. Smith Award
Technical Communication, the Society's journal, publishes articles about the practical application of technical communication theory and serves as a common arena for discussion by practitioners. Technical Communication includes both quantitative and qualitative research while showcasing the work of some of the field's most noteworthy writers.
The Frank R. Smith outstanding journal article award recognizes the authors of exceptional articles that appeared in Technical Communication during a calendar year. Since 1966, STC has paid tribute to the authors whose contributions have madeTechnical Communication one of the most highly respected journals devoted to the arts and sciences of technical communication.
Judges base their decisions on the article's content and form. Content is judged on the degree to which it represents contributions to new knowledge, new perspectives, or practical communication applications or techniques. Form is judged by the degree to which it embodies effective and appropriate organization; apt language and correct grammar; relevant and meaningful tables and illustrations; and spirit of vibrancy, intensity, conviction, or enthusiasm in transmitting information.
2016 Honorees for Outstanding Article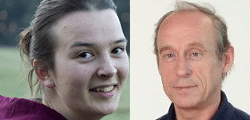 Petra ten Hove and Hans van der Meij for their article, "Like It or Not: What Characterizes YouTube's More Popular Instructional Videos?" in the February 2015 issue of Technical Communication.
Citation: For the authors' thorough statistical analysis of quantifiable characteristics present in popular YouTube instructional videos, and for the clear and useful presentation of the results. Their methodology has immediate applications in technical communication while providing a solid foundation for future research.
---
Nomination process
Please consult the guidelines for the complete nomination process.
Who is eligible: Technical Communication authors
Who may nominate: Frank R. Smith Award Committee
Due date for nominations: February 2017
Honorees notified: After vote by STC Board of Directors, usually March
Award Presented: At the Honors Banquet at the STC Technical Communication Summit 
The Frank R. Smith Guidelines.
Previous winners of the Frank R. Smith Award
Contacts
Frank R. Smith Commitee Chair: Sam Dragga
Technical Communication Editor: Sam Dragga, PhD